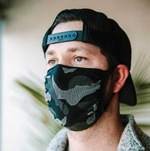 30X Mask treated with Antimicrobial HeiQ NPJ03
DO NOT CONTAIN GRAPHENE or biographene. 
Canadian health officials have issued a warning about face masks that contain graphene or biographene, urging a recall by distributors, according to reports.
The 30XMask does not contain graphene or any derivative and is safe to use. The 30XMask and 30XSafeSleeve are treated with the Swiss-made HeiQ NPJ03 antimicrobial which allows the mask to be washed up to 30X and maintain its effectiveness against the virus. Per CDC guidelines, the 30XMask provides 2 layers of fabric with optional insertable filters, full coverage over the nose and mouth and under the chin, fit snugly to your face, and prevents air leaking out of the top of the mask.