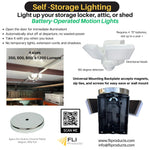 Self-Storage Facility Managers Can Sell Battery-Operated Motion Lighting for Tenants to Enhance Profit Margins, Improve Tenant Safety and Security, Prevent Hazards, and Provide Marketing Opportunities.
Self-storage facility managers may sell battery-operated motion lights from FLI Products to tenants for several reasons:
Additional Revenue: Selling battery-operated motion lights can be a source of additional revenue for the storage facility. It allows the facility to offer a convenient product that tenants may need while generating extra income.
Convenience for Tenants: Providing lighting options for tenants on-site can enhance the convenience and overall experience of renting a storage unit. Tenants may not need to go elsewhere to purchase suitable lighting, saving them time and effort.
Security Enhancement: Offering battery-operated motion lights can contribute to security on the premises. Well-lit storage units and hallways deter unauthorized access and improve the overall safety of the facility.
Compliance with Regulations: Some self-storage facilities may have specific rules or guidelines regarding the use of lighting within storage units. By providing approved battery-operated motion lights, the facility can ensure that tenants use appropriate and safe lighting solutions.
Maintenance and Quality Control: The facility can maintain control over the quality and safety of the lighting solutions used within the storage units. By selling approved battery-operated lights, they can ensure that tenants are not using potentially hazardous or non-compliant lighting options.
Enhanced Tenant Experience: Providing lighting options that are tailored to the storage units can improve the overall tenant experience. This can lead to greater tenant satisfaction, increased retention, and positive word-of-mouth recommendations.
Emergency Preparedness: Battery-operated lights can serve as a backup or emergency lighting source in case of power outages or other unforeseen situations. Selling these lights helps ensure that tenants have access to essential lighting when needed.
Reduced Liability: By offering approved lighting solutions, self-storage facility managers can potentially reduce their liability in the event of accidents or issues related to tenant-provided lighting.
Customization: Facility managers can offer a variety of battery-operated motion lights with different features and price points, allowing tenants to choose the options that best suit their needs and budgets.
Promotional and Marketing Opportunities: The sale of battery-operated motion lights can be used as a promotional or marketing tool to attract new tenants or retain existing ones. It can be offered as part of a move-in package or as a special promotion.
Selling battery-operated motion lights at self-storage facilities benefits both the facility managers and tenants by providing added convenience, security, and peace of mind. It can also serve as a revenue stream and improve the overall tenant experience.
self-storage, lighting, motion, battery-operated,  storage unit, security lighting, motion activated lights, energy efficient, lighting solutions,safety, emergency lighting, tenants lighting options, convenient lighting, cost effective, experience, customized, illumination, eco-friendly, interior lighting, promotional lighting