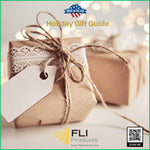 Holiday Gift Guide of 2023 From FLI Products
Welcome to our Holiday Gift Guide, your ultimate resource for finding the perfect presents to make this holiday season unforgettable. The holidays are a time of joy, giving, and showing appreciation to those who matter most in our lives. Whether you're looking for that special gift to surprise a loved one or hoping to spread a little extra cheer, our carefully curated collection of holiday gift ideas has something for everyone on your list.
This year, we've scoured the shelves to bring you an array of thoughtful and unique gift suggestions that cater to all tastes, ages, and interests. From heartwarming and sentimental gifts to innovative and trendsetting finds, our guide is designed to help you navigate the often-overwhelming world of holiday shopping.
With the holidays right around the corner, our gift guide is here to inspire your gift-giving journey, making it easier and more enjoyable than ever. Whether you're searching for the perfect present for a family member, a close friend, or even a co-worker, we've got you covered with ideas that fit a range of budgets and preferences.
There are thoughtful holiday gifts for kids and adults, gifts for gardeners and DIY handymen, gifts for the cleaners and for the organizers in our lives, gifts for the crafters and gifts for the outdoorsman. There are gifts that are practical and gifts for fun, all at a great value! You'll find a bunch of stocking stuffers, budget friendly, eco-friendly, sustainable, So, sit back, relax, and let our Holiday Gift Guide take the stress out of your holiday shopping experience. Explore our carefully curated categories and let the spirit of giving guide you as you find that special something that will bring smiles and warm hearts this holiday season. You might even find a few White Elephant gifts in here.
If you are one of those last minute gifters, don't worry, FLI's elves will be packing up until the last minute making sure your gift gets to its destination when you need it. So, shop away and Merry Christmas to you and your family!
www.fliproducts.com   Holiday gift Guide