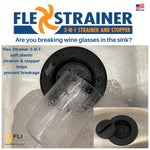 FLI Products Flex Strainer 2-n-1 Kitchen sink strainer stopper fits all 3-1/2" drains, 5-1/4" diameter
THE FLEX STRAINER is a 2-N-1 thermoplastic polyolefin kitchen sink strainer drain basket that traps food and other debris and prevents foreign objects from slipping down the drain. This strainer will get you soaking and washing dishes quickly because it also features a rubber stopper for a snug fit in your drain. Simply drop-in for multi- stage draining, place cap over the drain for slow drain, or press and turn for no drain-full stop. Flex Strainer fits all standard 3.5" sink and disposal drains and lays over the top of the original drain flange. It replaces the typical inexpensive chrome strainers many new sinks come with. It's easy to use and clean out because of the flexible material. Just turn it inside out over the trash. It's dishwasher safe. The stopper really holds the water in very well. The plastic material also helps avoid broken dishes and glassware. And it looks good in your sink!
Features and Benefits:
Flexible durable plastic basket helps avoid broken glasses, cups and plates
Universal 3 -1/2" with 5 ¼" outer diameter fits all kitchen sinks
Helps keep drains flowing freely
Fits sink opening of 3-1/4 in.
Dishwasher Safe, BPA Free
Thermoplastic Polyolefin – flexible, easily removed, turn inside out to clean Fits standard sinks and disposers, feels like silicone
Won't scratch sinks
No tools
MADE IN THE USA!
Customers say
Customers like the ease of cleaning, quality, appearance, fit and fit of the drain strainer. They mention that it's easy to remove, toss out the contents and replace back over the drain. They also appreciate the grate suction and that it works well.
KEYWORDS: basket strainer prevents clogged rubber stopper chrome rust free stainless steel garbage disposal drain stopper silicone rubber mesh basket garbage disposal po-up universal anit-clog commercial sink strainer replacement
#lowes #Walmart #Amazon #Wayfair #Zoro #FLIProducts #soakyourdishes #sinkstrainer #disposal #drainstopper #sinkdrainplug