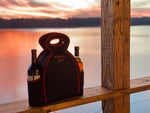 Give Thanks with a Flatbox Wine Tote
Just getting together face to face with family is cause for celebration this Thanksgiving. So don't go empty handed – bring 2 bottles!
October 20, Chicago, IL
Flatbox new family of "Cheers" Wine Totes and beverage bags are designed to unzip and fold out into a placemat to provide a cleaner, healthier and safer eating surface everywhere.
This is the time of year we look forward to getting together with family and friends. Make the celebration special and bring along your Flatbox Cheers wine bag. The lightweight neoprene bag has outside pockets for 2 bottles of your choice. Pack whatever other goodies you're bringing in the center snack compartment.
The Cheers wine tote bag is made of machine washable, insulated neoprene material to keep food at the right temperature for hours. Take it home at the end of the day, wash it and hang dry for the next event assuring a clean packed meal and safe surface everyday, anywhere.
The Flatbox CHEERS beverage cooler tote is a great gift idea too. If you are looking for the party bag for that special friend, relative, or co-worker, or just need to transport your favorite beverage to the family outing, take along Flatbox and spread out the goods when you get there. Everyone will love you for it!
Flatbox is a global manufacturer of lunch bags, lunch totes, related products, and allergen-free cookies based in Toronto, Canada with offices and distribution in the US. Products are sold on Amazon, Walmart, and other ecomm sites.
For more information about Flatbox and the lunch bags, visit www.flatbox.com, contact us at info@flatbox.com