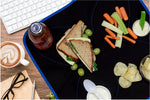 Flatbox Introduces Unique Solution For Workplace Eating Hygiene
With workers returning to the office lunchroom, companies look for ways to enhance sanitizing, keep employees healthy and promote good eating hygiene. 
September 21,2021 Chicago, IL
Flatbox recently re-introduced its family of Lunch Bags/Totes designed to provide a cleaner, healthier and safer eating surface everywhere. As workers return to the lunchroom cafeteria, or even their office desk, they don't always know when the last time surfaces were cleaned and sanitized.  The Flatbox Lunch Bag is the alternative to a lunch box, that fully unzips to provide a placemat for the eating surface area. The lunch bag is made of machine washable insulated neoprene material to keep food at the right temperature for hours. Take it home at the end of the day, wash it and hang dry for the next day assuring a clean packed lunch and safe surface everyday.

For 83% of Americans who eat at their desk, studies show that most desks have more bacteria than a toilet seat. At your desk or the lunchroom, the placemat creates a natural, effective social distance that makes co-workers feel safe as well.  It comes in 4 styles and multiple colors with options for drink holders too. Beats the brown bag any day!
 Lori Bergamotto , Style Director for Good Housekeeping, put the Flatbox on her list of top lunch bags for back-to-school. Lou Manfredini of WGN Radio says "This one is really neat. Whether you are a child or an adult, this will make packing a lunch clean, fun, and waste-free"
Flatbox is a global manufacturer of lunch bags, lunch totes, related products, and allergen-free cookies based in Toronto, Canada with offices and distribution in the US. Products are sold on Amazon, Walmart, and other ecomm sites.
For more information about Flatbox and the lunch bags, visit www.flatbox.com, contact us at info@flatbox.com