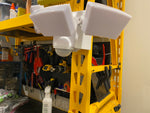 Boosting Security and Revenue: How Self-Storage Facility Managers Benefit from Selling Battery-Operated Motion Security Lights
We all know Self-Storage facilities play a crucial role in providing individuals and businesses with a safe and convenient space to store their belongings. However, maintaining tenant safety and security within your facilities is a top priority for both facility managers and tenants. One effective way to enhance safety and security, emphasize standards for space lighting, and generate additional revenue is by selling LED Battery-Operated Motion Security Lights along with each contract.
Selling LED battery-operated motion security lights provides an additional stream of revenue for self-storage facility managers and can contribute to the bottom line.  Since these motion activated lights automatically come on and off, a few of the benefits for facilities and their tenants are:
Safe tenant access entering their space
Reduced need for access to power outlets
Improved tenant space utilization
Reduced energy consumption in the general spaces
A 10x10 space could easily be lit with 2-3 Battery-Operated motion lights mounted to space structure or tenant fixtures with zip ties, magnets, or adhesive hooks.
Each fixture takes 4xD Batteries that could also be sold with the fixture. Zip ties , adhesive clips or magnets could be sold too.
The fixtures can easily be installed AND removed by the tenant in a matter of minutes.
These lights could be used to educate tenants on interior space safety standards IE avoid using halogen lights, extension cords, and leaving non-facility lighting on and unattended.
The Battery-Operated lights have similar controls and lumen levels as their 120V counterparts.
The lights can enhance the tenant's sense of security and perception of operational quality standards while in their space and give them peace of mind about coming and going especially since many visit at night..
Conclusion:
Self-storage facility managers can reap numerous benefits from selling motion security lights. By improving security, increasing revenue, and enhancing the tenant experience, these lights offer a win-win solution for both managers and tenants. Whether it's for deterring trespassers, providing convenience, or boosting the bottom line, motion security lights are an excellent addition to any self-storage facility's offerings. So, make the investment, and let your facility shine bright in the eyes of your tenants and your balance sheet!